---

---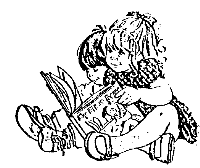 Children's Programs
at Goshen Public Library
WINTER 1999
REGISTRATION
TUESDAY, WEDNESDAY, THURSDAY
Jan. 26, Jan. 27, Jan. 28
WALK-IN-REGISTRATION PROCEDURE
Come into the library or any of the above dates; choose a lottery number and fill in a registration request form. Programs will be filled in order of lottery numbers. There is no advantage to coming in early. A valid Goshen Library card must be presented.





Preschool Programs




Toddletime (18-36 months)


A program for caregivers and tots to help introduce toddlers to the world of books through stories, fingerplays, and songs. There will be toys out for play and social time. We ask that other arrangements be made for younger and older siblings so that this is a special time for you and your toddler. 6 Weeks, Limit 12

Tuesdays 10:30-11:15, Starting Feb. 16
or Wednesday 9:30-10:15 or 10:30-11:15, Starting Feb. 17





Circletime (3 years)


This is a program for 3 year olds who have never attended our Preschool Story Hour. This is a chance for the preschoolder to be on his/her own without Mom or Dad! It will include stories, songs and fingerplays in a small group atmosphere. New 3 year olds must attend this program before attending Preschool Story Hour. 8 Weeks, Limit 12

Wednesday 1:30-2, Starting Feb. 10
or Friday 10:30-11:00, Starting Feb. 12





Preschool Story Hour


A program of stories, games, songs, films, and crafts usually based on a theme. Choosing his/her own library books to read at home is also an integral part of the Story Hour experience. New 3 year olds must attend Circle Time first. 8 Weeks, Limit 18

Thursday 10:30-11:15 or 1:30-2:15, Starting Feb. 11






School-age Programs

SPECIAL REGISTRATION PHONE NO. - 294-8405

Afterschool Specials




And the Winner Is...! (Grades K-2)


Activities based on award-winning books. Vote on your own favorites.

Tuesdays, Feb. 23, Mar. 2, Mar. 9: 3:45-4:30
or Wednesdays, Feb. 24, Mar. 3, Mar. 10: 3:45-4:30

Register Wednesday, Feb. 10, 4:00 (by phone)





Origami Storytelling (Grades 3-6)


Learn paperfolding techniques to tell stories.

Wednesdays, Mar. 17, Mar. 24, Mar. 31, 3:45-4:45

Register Wednesday, Mar. 10, 4:00 (by phone)






Crafts and Special Events




Celebrate Chinese New Year (Grades 2 - 6)


Traveling Gourmet, Norma Change, will explain the customs and cook the foods associated with New Year celebration.

Register Tuesday, February 9, 4:00 (by phone)





Hop into Spring (Grades K-1)


Usher in Spring with an adorable, easy to make sock bunny.

Thursday, March 18, 3:45-4:45

Register Thursday, March 11, 4:00 (by phone)





Donuts and Discussion


This program is back by popular demand. Participants will read and discuss Sarah, Plain and Tall by Patricia MacLachlan.

Register Thursday, Feb. 4 in person. Bring library card to pick up book.





Registration Policies




In person at the Goshen Public Library for Pre-School programs; by phone for School-age programs. (294-6962)
One adult per family unit.
A parent's valid Goshen Library card must be presented at registration.
Programs are open to residents of the Goshen Central School District, or fee-paying patrons from untaxed areas.
Children must be of specified age by first sessions of program.
Space remaining after first day registration may be filled by out-of- district children attending Goshen schools. This applies to school age programs only.
Click here to return to the main menu.