Goshen Public Library
and Historical Society

Annual Report
1996-97
Income

Taxes                 $405,266
Additional Revenue      40,419
______________________________
Total:                $445,685


9% of the library's income came from sources other than taxes.
Expenses

Staff                 $243,725
Library Materials       71,681
Building                51,965
Other                   64,443
______________________________
Total:                $431,814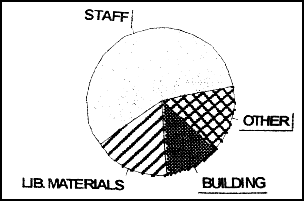 Per Capita Library Cost: $27.10
What Did Your Library Tax Do for Goshen?
Facts & Figures
71,784 patrons visited the library
A total of 126,627 books, videos, audiobooks and magazines were borrowed from our collection
1,849 books, videos, audiobooks and magazines were borrowed from other libraries for Goshen patrons
Our staff answered 13,134 reference questions
15 programs were offered for 566 adult patrons and 213 programs were offered for 5,851 children
The library was open 337 days; 65 hours per week (58 hours June - August)
The addition of a full-time librarian increased reference desk coverage to 46.5 hours per week
3,004 items were added to our collections
Internet access was made available via ANSERnet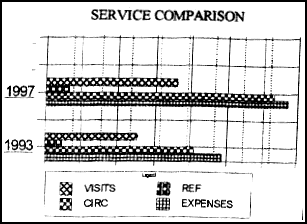 A Message from the President
There are two ways of looking at the increase in library expenditures between 1993 and 1997. The first is simply that the library is costing more money. This is undeniable.
The library board views the increase as necessary for the increases in service recorded between 1993 and 1997. The library is doing more things for more people every day of the week for nine months of the year (six days of the week for the other three).
Since late 1993, the Board has been moving towards the conclusion reached this summer that the library needs a new site to grow physically so it can continue serving more people successfully. Our children deserve a space of their own in which to explore the world of the library. The teenagers who helped make our summer reading club so successful deserve an ongoing program of service.
Our adults deserve more educational and cultural programs (concerts, dicussions, computer training, lectures) and quiet study space. All of our customers deserve more space in which to conduct their business more comfortably. The artifacts and documents which reflect Goshen's past need space in which to be displayed, preserved and secured.
In the coming year the library board hopes to secure a site for a new building. We will then conduct a referendum seeking your approval to move forward in our planning of a library facility as worthy of our present day community as 203 Main Street was of the community of 1918.
We will conduct focus groups to better understand your expectations of the library. We will continue publishing our newsletter, our weekly column in the Independent Republican and our Annual Report to keep you informed of our services. We will continue to hold our meetings on the second Monday of the month, and you are welcome to attend. This is your library, and we encourage your input.
Patty Garnett
HOME